OUR STORY
All Fresh Carpet Cleaners, LLC. is based in Stone Mountain, GA. We provide first-rate professional carpet cleaning, upholstery cleaning, and odor removal services at unbeatable prices. We have an A+ rating with Better Business Bureau, and all of our cleaning technicians are fully trained and certified by the Institute of Inspection, Cleaning and Restoration Certification. We have been in business for quite for some time and have earned the trust and respect of thousands of satisfied customers. Our success and loyal customer base relies heavily on the quality services we provide but is also founded upon moral and ethical principles we uphold ourselves to while providing services. The company's owner, Rashid Rashad, leads his staff by example. He is highly active in his community through his own humanitarianism as well as the work he does with renown civic organizations.
He has been the president of both Feed the Homeless and the PTSA, travels around the world on humanitarian missions, and mentors dozens of young men in various neighborhoods. Thank you for visiting our site, and we look forward to doing business with you soon !
MEET THE OWNER
All Fresh Carpet Cleaners was founded by Rashid Rashad to not only provide carpet cleaning services, but also to be a model representative of quality work and excellent customer service. These principals along with personal moral and ethical values are what differentiates All Fresh Carpet Cleaners from the competition.
Rashid Rashad was born in Atlanta Georgia in 1967 and grew up in Historic Techwood Homes, the first housing project built in United States. Rashid graduated from Henry Grady High School with a four-year athletic football scholarship to Savannah State University. His career path led him to work for United Parcel Service (UPS) for 13 years as a delivery driver earning many awards for safe driving & and excellent customer service. Although Rashid enjoyed his tenure with UPS, he always had a burning desire to start his own business. So he decided in 2000 that he would step out on faith with no business contacts or contracts and buy his first delivery van. With this first step, Rashid started Navigator Express, a delivery company, with no small business loans or borrowed money.
Since then Rashid has started 2 other businesses, All Fresh Carpet Cleaners and Rightly Guided Tours. Rashid is also the author of three books. Rashid started All Fresh Carpet Cleaners in 2010 to promote entrepreneurship and to train young men in his community serviceable skills that will help cultivate Independence, freedom, and financial stability for themselves and their families for generations, with a high emphasis on charitable giving. All Fresh Carpet Cleaners was awarded the best carpet cleaning company in Stone Mountain, Georgia, and DeKalb County in 2014 and has continued to earn this award now for six consecutive years. Mr. Rashad has embraced continuous education in the carpet cleaning industry with a profound emphasis on excellent customer service. He has been certified as a carpet cleaning technician and water restoration technician by the IICRC and also is an affiliate of several industry trade associations. Rashid has had training by some of the top industry leaders in the carpet cleaning industry, plus he has attended countless business seminars and workshops.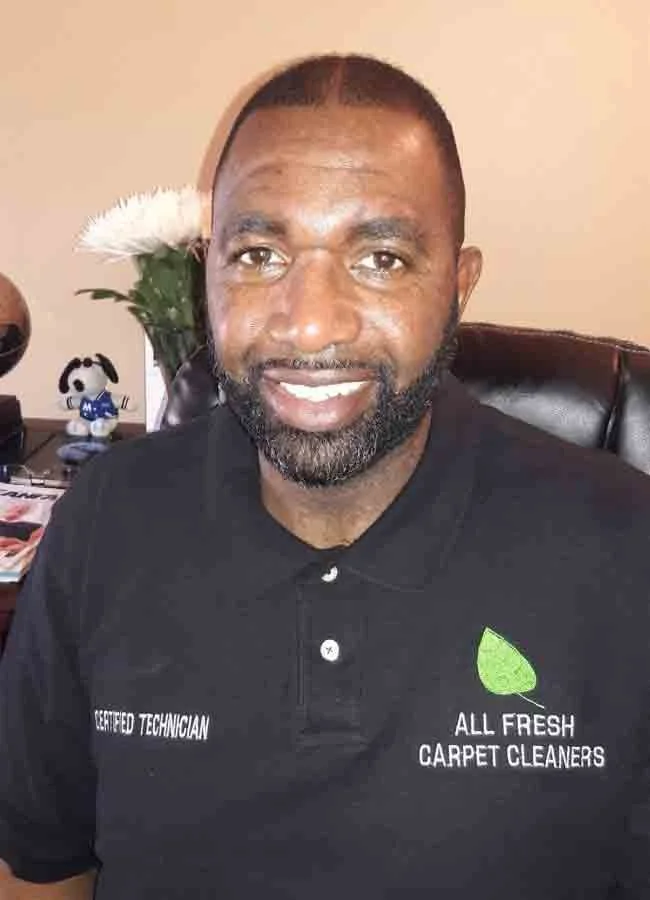 WHY CHOOSE ALL FRESH CARPET CLEANERS ?
There is a great deal of carpet cleaning companies out there in the Stone Mountain area, so maybe you are wondering why should you choose us? . Firstly, we are the pet friendly and child friendly solution. When you've pets or children - or - you do not wish to fill your house with substances which might be detrimental to them. You need to feel confident that once the carpets, upholstery, and flooring have been cleaned, it is Okay for your children and pets to get up close and personal without fretting about them breathing in dangerous fumes or coming in contact with harsh residues.
Second, we are kind to the Earth. Not only are our cleaning solutions safe for the environment, but we are dedicated to implementing earth friendly policies and procedures which make our cleaning procedures as green as possible.
Third, we use a particular encapsulation method that saves water and leads to a significantly faster drying process, therefore getting your carpets or upholstery cleaned doesn't lead to a significant interference with your life.
Fourth, our technicians have been trained in special techniques to help get rid of even the most stubborn stains and odors. Also, all together, we've got over two decades of expertise as professional carpet cleaners. We care about the local community. We donate a part of our earnings to the local food pantry in DeKalb and Fulton county.
Plus, we provide cleaning solutions for all sorts of surfaces, including carpet, hardwood, laminates, tile, and upholstery, so all it takes is one phone call to get your home looking and smelling its best. We even donate a portion of our profits to local homeless shelters, so you can feel extra-good about having your floors and upholstery cleaned. That's what makes All Fresh Carpet Cleaners DeKalb County, Georgia specialists! Give us a call at (678) 973-9991 and schedule your state-of-the-art cleaning appointment today.
(678) 973-9991
Call Today !
allfreshcarpetcleaners1@gmail.com
Email Us !
6347 Robins Nest Stone Mountain,
GA 30087-4976